Planet Earth has so many beautiful places that are perfect for a honeymoon or your well-deserved holiday. There are many luxurious 5-star super-chic hotels out there, but when it comes up to an incredible setting, stunning views of the sea and relaxing until every ounce of stress have been washed away into the blue waters of the stunning Indian Ocean then Huvafen Fushi Resort is THE place to be. This resort in the Maldives boasts the most luxurious and exclusive setting you can possibly imagine. Take a virtual trip through heaven on earth and enjoy the pictures and the video… I'm sure you will love it as much as I do :)
Huvafen Fushi Resort: an island that converted into a luxury hotel
Let's pay a visit to the world of the rich and famous who stay within this 5-star resort. I will show you some of the most glamorous accommodation and the incredible views that Huvafen Fushi Resort is offering and after all the amazing pictures I will give you advice how to get there, if you have the opportunity to book a trip to this hotel in the future… hopefully one day we'll all get lucky and go there!
---
Huvafen Fushi Resort which has an excellent TripAdvisor rating of 4.5/5 and Certificate of Excellence lies in an atoll in the north of Malé. That's how your dream will start: imagine an island above the sea with a hotel that deserves a red carpet and that plays in its own luxurious class. Let your thoughts flow freely and picture yourself jumping into the crystal clear water from your glamorous accommodation right above the Indian Ocean. It's a feeling that just can't be bought and you will never forget it.
Huvafen Fushi Resort: These mind-blowing bungalows boast private pools above the turquoise ocean and will be the ideal accommodation during your luxury holiday.
Huvafen Fushi Resort: this panoramic view shows you how incredibly clear the water is and how marvellous it will be to stay on an island converted into a fabulous luxury hotel.
Huvafen Fushi Resort: there are many different leisure facilities on the private island which make the perfect retreat for you and your beloved one. Share for example some romantic and intimate moments together in this gorgeous pool . 
Huvafen Fushi Resort: the bungalows boast a private terrace and a private pool. Get the perfect tan and if you've sunbathed enough take a dip in the pool to cool yourself down before relaxing on the sun loungers.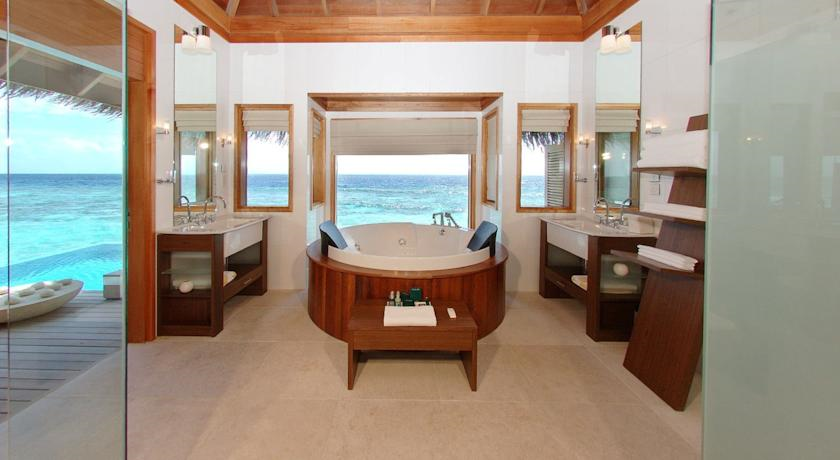 Huvafen Fushi Resort: the facilities and services of this resort are extraordinary and very impressive. Look at this stunning setting and you can imagine how luxurious the facilities must be in reality. 
Huvafen Fushi Resort: the bungalows are well-connected with walkways – a great opportunity for romantic strolls at night. Follow the walkway until you have found true paradise!
Huvafen Fushi Resort: the stylish bathrooms fit perfectly into the wooden bungalows. They feature luxurious details that will always remind you where you are staying: you are in one of the most desirable places on earth! You just need to look outside your window!
Huvafen Fushi Resort: there are loads of activities that will keep you entertained during your holiday. You will have the opportunity to enjoy everything as much as you want to. Soak up the striking atmosphere!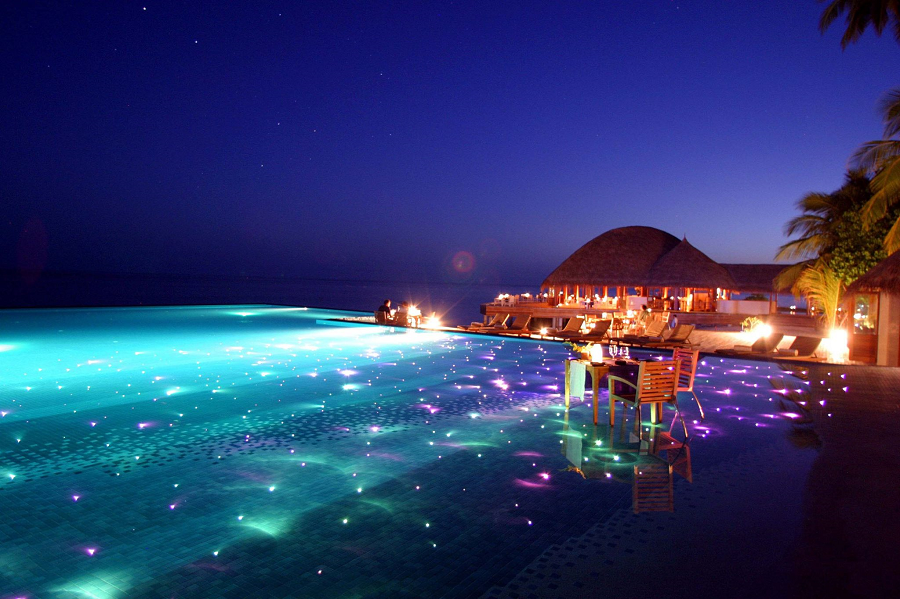 Huvafen Fushi Resort: the dazzling features are truly incredible and I can't think about anything more romantic than dining in this gorgeous ambiance accompanied by the light of the stars.
Huvafen Fushi Resort: when the sun sets you will witness the most beautiful time of day on the island…the atmosphere is spectacular! Don't worry about your nightlife, boredom does not exist in this luxurious hotel. 
Huvafen Fushi Resort: besides the facilities that I have already mentioned like hot tubs, private pools and incredible views of the island, did I tell you that there is even more luxury waiting for you? How about a private pool IN the living room of one of the suites? 
Huvafen Fushi Resort: besides of all these luxurious facilities do not forget about the marvellous infinity pool that seems to melt with the blue water and the sky…simply gorgeous!
Huvafen Fushi Resort: if you are looking for a romantic escape then add the Maldives to your bucket list – nowhere else can compare!
---
How to book your holiday at Huvafen Fushi Resort:
If one day you will have the opportunity to save enough money for this hotel, I recommend you to book through Trivago. The website compares the offers of many providers to each other and finds the cheapest rates on your dates. The price depends on the time of the year and how long you want to stay. This resort is so fantastic that once you have been there you will never want to leave it again. If you want to know more about the prices and where to book it, just click on the button below.
How to book your stay
---
If the pictures cannot convince you about the beauty of this place then check out the video of Huvafen Fushi Resort to get a better impression. Without a doubt this hotel has to be one of the most glamorous hotels of the world. Or what do you think?
---
Find out more about paradise
---
I'm sure that all of you or at least the most of you will agree with me if I say that Huvafen Fushi Resort is a paradise on the crystal clear waters of the Indian Ocean. If you disagree leave me a comment below or share your precious memories with me if you have already stayed in the Maldives and in this luxury hotel.