Switching off, enjoying the nature and residing in one of Lake Garda's most beautiful hotels… Doesn't that sound heavenly?
Lake Garda is a true holiday paradise and it's not without reason that it's considered one of the most beautiful holiday regions in all of Italy. Deep blue water, picturesque villages and breathtaking nature are just a few of the reasons why people flock to Italy's largest lake for a little time-out. If you manage to pick out a chic place to stay, then your holiday really couldn't be any more beautiful! Whether it's a hotel for active holidaymakers, a luxury hotel with plenty of wellness facilities or a simple place that makes you feel at home – in this selection I've picked out for you there'll be something for everyone!
The most beautiful Lake Garda hotels
Aktivhotel Santalucia | Lefay Resort & Spa | Wellness Hotel Casa Barca
Villa Sostaga Boutique | Villa Cordevigo Wine Relais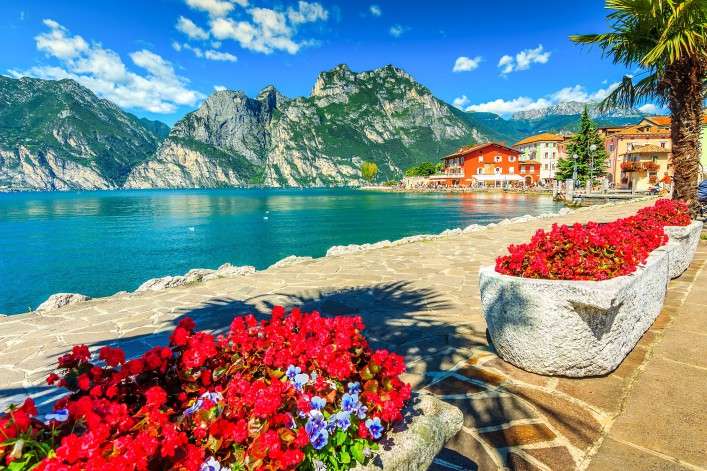 Aktivhotel Santalucia, Nago Torbole
If you want your holiday to be as active as possible, then you're definitely at the right place here at Lake Garda! If you pick a hotel that suits your needs such as the Aktivhotel Santalucia, located on the northern banks of the lake, then you've got a perfect holiday on your hands! Whether it's mountain biking, hiking, climbing or canyoning, guests will be offered all sorts of outdoor activities to suit them. If you want to put your feet up for a little bit after an action-packed day, then you'll be glad to know that there's a 3000m² private garden complete with palm trees, olive trees and a pool, and even a fantastic wellness area too.
Lefay Resort & Spa Lago di Garda, Gargnano
Do you love luxury and want to live the high life during your holiday? Then you should definitely go for the classy 5* Lefay Resort & Spa, located in the magnificent village of Gargnano. Situated just a few metres from the western banks of Lake Garda, you'll be staying in elegant suites furnished completely from natural materials. Go for splendid walks by the waterfront, visit the saunas in the fantastic wellness and spa centre and treat yourself to a meal in the hotel restaurant with a view over the lake. La dolce vita at its finest – doesn't get much better than this!
Wellness hotel Casa Barca, Malcesine
Our next enchanting hotel is found in a pretty village named Malcesine, just north-east of the lake. At the 4* Casa Barca, wellness is the main focus here: Situated on the beautiful eastern banks of the lake, guests can relax for hours on end surrounded by idyllic nature. If you don't fancy relaxing in the outdoor pool you can always retreat to the wellness area complete with a Jacuzzi, sauna and swimming pool. Small, but mighty – the best way to describe it!
Villa Sostaga Boutique, Navazzo di Gargnano
Does your idea of luxury simply mean having time to yourself and forgetting everything else going on around you? If so, then you'll be in good hands at the Villa Sostaga over on the western banks of the lake. This hotel places great emphasis on offering luxury to guests that aren't materialistic – think of it as a 'luxury for the soul'! Indulge yourselves in a pampering massage, enjoy the view of the magnificent lake and surrounding landscapes and just simply take the time for yourself! I'm sure you can already sense just how relaxing it must be to stay here!
Villa Cordevigo Wine Relais, Cavaion Veronese
Cavaion Veronese is a community with 5,000 inhabitants close to Bordolino, located on the southern bank of the lake. It's here exactly – or rather to be more precise in the middle of a romantic nature park – where you'll find the unique Villa Cordevigo Wine Relais, a historic property that dates back to the 18th Century. Once the seat of several noble families, today it's without a doubt one of the most beautiful hotels at Lake Garda, if not the whole of Italy. Romantic rooms and suites come together to create a paradise where anyone would feel at home – not forgetting the traditional wine cellar, a grand, high-end restaurant and a spa that leaves nothing to be desired. A dream come true!
Spend a holiday at Lake Garda!
I definitely wouldn't be surprised if you told me you were suddenly itching to travel and dreaming of a holiday at Lake Garda! It doesn't have to stay a dream though – with these handy links it'll come true sooner than you think: