Crystal-clear, turquoise waters, white, frothing surf and the breathtaking sight of Bondi Beach – at first glance it looks like something from a different world! For over a century this pool's been standing up against the waves at Australia's most famous beach, which are always a little more rough in the early morning hours. In fact they even go over the pool's edge! ;)
The Pool at Bondi Beach
As a rule the seawater pool is colder than the ocean, but considering the Australian heat that's hardly a problem! The ice-blue water and the surf that's kicked up by the waves hitting against the pool really are unique! Of course no-one's forcing you to don your Speedos and goggles and swim lengths up and down the 50-metre long pool – but that's exactly what the members of the Bondi Icebergs swimming club do!
If you like, you can simply enjoy the view or cool down in the smaller poll next to it. You can see here just how the waves look:
Bondi Icebergs' winter swimmers
Even if you don't think it, things can get pretty chilly in Sydney during the winter too. But that doesn't put people off – Bondi Icebergs' pool is used all year round, no matter how low the temperatures sink! The members of the swimming club are pretty resistant to the weather and can even swim in the pool even when it's an icy 16°C! But those are the rules – "It's never cold enough! You're an Iceberg! Toughen up!" I don't know about you guys but just the thought of swimming in here in winter is enough to get me shivering… That's why I'd definitely prefer a trip to the Bondi Beach pool in summer! Just don't forget that their seasons work differently to ours – from June to August the temperatures can drop below 7°C, so be sure to plan your trip around it.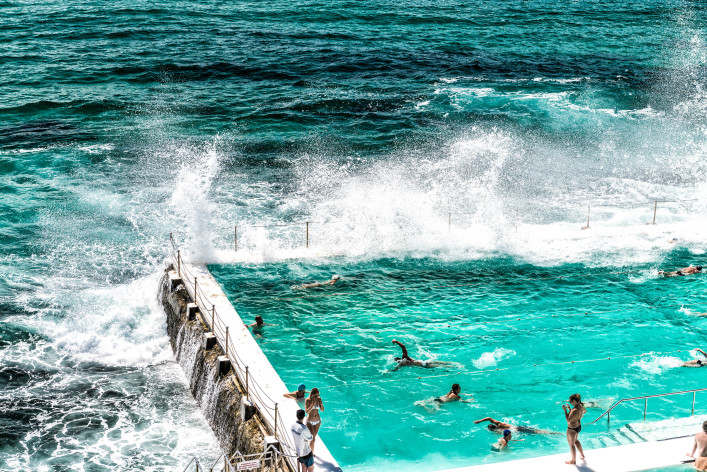 Best view in town!
Next to the icy-blue pool, the Bondi Icebergs Club building is also a real feast for the eyes. The white façades and panoramic windows enable visitors to enjoy breathtaking views of the legendary Bondi Beach and the thunderous surf that pounds against the pool. In the Club Restaurant you won't just get a great view over the bay, but you'll also be served fresh Australian seafood and other specialities! You can sit on the terrace of the Sundeck Café and take in that proper sea breeze. The restaurant is somewhat pricey, but it's worth it just for the view! As well as the restaurant and bar there's also a spa, fitness studio, and another pool. There are even yoga courses that are regularly offered here – a unique experience given the setting!
Australia from its best side: the pool at Bondi Beach
I think we all agree: the pool at Bondi Beach really is unique and definitely belongs on your bucket list! In case you've still got a fair bit to go until your own holiday to Australia, you can always dream about the sound of the crashing waves and the smell of the sea with me as you're imagine what it must be like to spend a day at this wonderful place!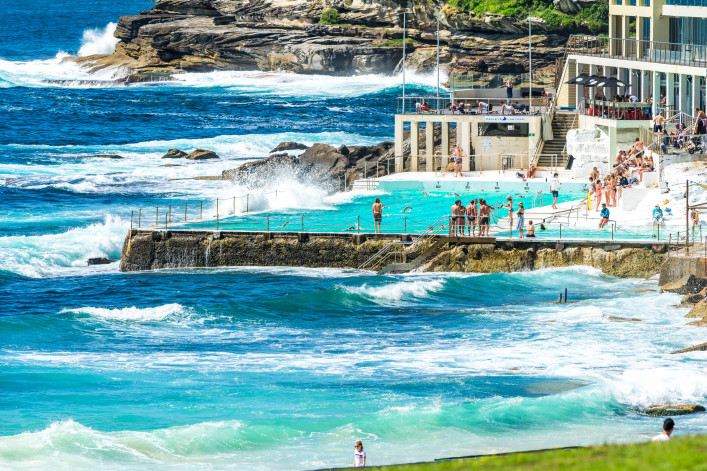 Got some serious wanderlust and want to finally go to Australia? Then I've got some links that will help you! ;)