Santorini is the pearl of Greece, its mistress of the house, a wild volcano filled with romantic buildings and more unique than any other island on earth. It's for this reason that this tiny speck of land is no longer a secret – numerous love birds and those enchanted by the island flock here. That's why I've prepared a few Santorini tips for you so that you can enjoy your stay there to the fullest.
My ten Santorini tips for you
Orientation | Transport | Exploration | Sleep | Enjoy!
Get your bearings first
Santorini is an archipelago – a small group of islands together with surrounding waters. The Greeks call it Thira and its capital is Firá (sometimes also called Thera).
Tip 1:
If you're looking for the classic postcard scenery with blue roofs, you won't find them in Firá! The view is gorgeous, there's no doubt about it, but what you're looking for is actually in the north of the island, in the small town of Oia. The crowds there are not much smaller, but there are nevertheless much much less people than in the capital city of Firá, where countless daily cruise ships enter the half moon-shaped harbour every morning.
Tip 2:
If you prefer to explore Oia or Firá in peace, you should stay away at midday, as the people come off their ships in the morning and take over the city – they're all gone in the afternoon though and sit at captain's dinner, while tranquillity returns to your tavern. So explore the streets in the morning, since it'll also be cooler, or grab a glass of wine in the evening and observe the departing ships, knowing that you're able to stay on one of the most beautiful islands.
Getting from A to B on Santorini
Tip 3:
Arriving in the harbour in Firá, you have two options: a gondola lift that will whisk you up over the steep cliffs, or a donkey ride. That's right. A real four-legged friend that will take you up countless steps all the way to the highest point of the city in the blazing sunlight. And now lets think for a bit whether it's really necessary to let yourself be carried by a donkey up so many slippery steps, when you can give your own two legs some exercise or simply take the gondola lift. I recommend scoring some good karma points and sparing the poor animal from the burden carrying you all the way to the top.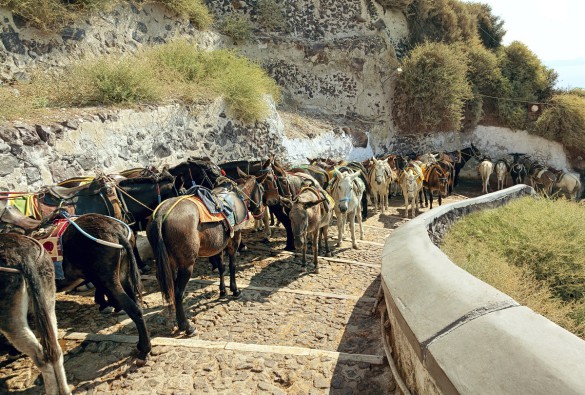 Tip 4:
Reaching the upper levels of Firá, you should first of all enjoy the gorgeous view and ignore the tourists hurrying all around. Turn into a side street, find some shade and enjoy the spectacular panorama. You'll find small narrow streets, ornate doors, small balconies with a view of the sea, flowers adorning the entryways and small shops selling the most beautiful jewellery.
Tip 5:
You could also travel the island with one of the many boats or if you're arriving at the harbour you can let them bring you straight to Oia. I find this an especially lovely option, since you'll be able to admire the gorgeous island from the sea below as the dark, steep cliffs rise from the water. The view is simply striking. Apart from that there are still numerous buses travelling to the main town and back, but since they can often be quite full and manouvering through the narrow streets can take some time, you should avoid them if you're in a hurry. But the price is unbeatable: approx. €1.80/£1.40 for a journey between Firá and Oia. You could also choose the comfortable option and rent a car, as then you'll be flexible and able to explore the entire island.
Explore the island on your own
Tip 6:
Since Santorini is the only inhabited active volcano in the world, you shouldn't miss the isolated crater landscapes. The caldera – a cauldron shaped crater – in Santorini has filled with water which makes it seem like you're on an island and not on the ridge of a crater. You can occasionally find hot springs where you can bathe.
Those who don't just want to lounge in the sun but want to immerse themselves in a bit of Greek history and culture, should check out 'ancient Thera'.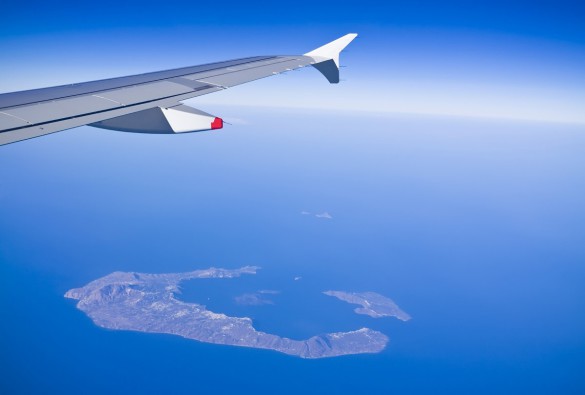 Tip 7:
Let's get back to a lazy lounge on the beach – it's part of a Greek holiday after all. Of course, there are a lot of beaches on Santorini. What you shouldn't expect are white beaches and a Caribbean flair – you are on a volcano after all. But that's exactly what makes this island so exciting! Watch out though: black sand can get quite hot – even very hot, so don't forget your flip flops! Kamari Beach, Perivolos Beach and Red Beach are especially beautiful.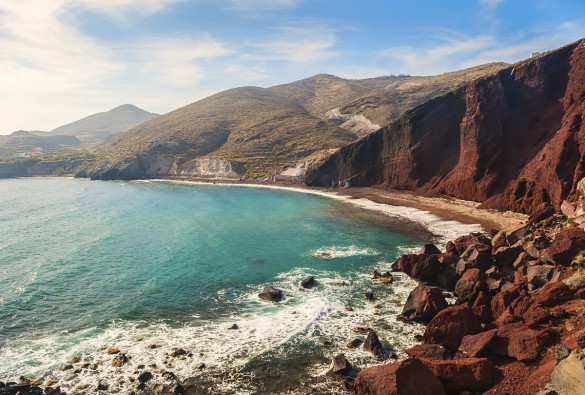 Book a cave home
Tip 8:
Book decent accommodation. If the city is too crowded for you and the beach too hot, there's nothing better than retreating to a quiet hotel or a private house to cool down in the private pool or closing your eyes for a minute in a shaded area. In Oia and Firá you can find the famous 'cave homes', which are the typical white houses built directly into the rock. Of course, the prices reach sky high but I've found a cheaper option for you – check it out:
Accommodation for £52.50 per person per night
If you're arriving with a slightly higher budget, you can splash out a bit and check into a private villa or a hotel. The choice is as boundless as the view of the horizon from your balcony.
Enjoy life!
Tip 9:
Naturally, my Santorini tips include the excellent Greek cuisine which will make the heart of every fast food lover skip a beat. Hundreds of taverns offer some shade, filled grape leaves and all kinds of dishes from the most beautiful island in southern Europe. Try to diverge from the main roads, climb a few steps, look behind a few corners and discover your own insiders tip. Party animals will have the best time in Firá: the PK Cocktail Bar is a hotspot with a view that's simply priceless. Fans of a good drink can enjoy countless wine tours on Santorini, wine tasting included.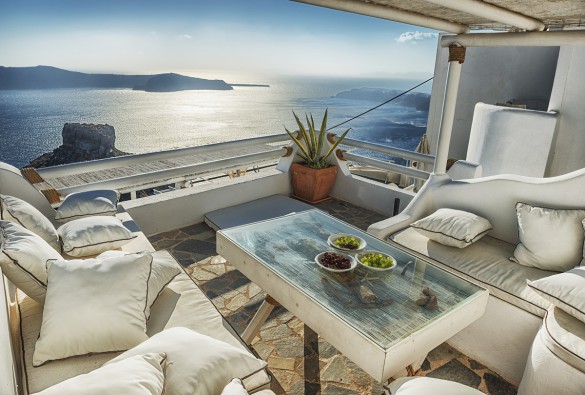 Tip 10:
In my opinion, the sunsets on the island are the most exclusive in the world. They cost nothing but a moment of appreciation and attention. Put your phone away, take your partner by the hand, maybe open a bottle of wine and simply look out at the sea which seems to shimmer under the setting sun. This moment should be just for you and remind you of this wonderful island for the rest of your life.
Santorini is a dream everyone should experience it at least once – not just on the backs of postcards! Immerse yourself in the unique Greek island and the sea lying at your feet. Once you visit, the island will stick in your memory for the rest of your life. It's a priceless experience and I hope that my Santorini tips can help you achieve it.