You're wondering whether this holiday paradise in the Southern Pacific can offer something else than just sun, beach and sea? Then get ready for a small glimpse of Tahiti from its prettiest, most exotic and also most exciting side. But don't start complaining later when the wanderlust starts kicking in! ;)
Dream Destination Tahiti
Good to know | Diverse holiday paradise | Diving, hiking and more
Trip to Bora Bora | Accommodation on Tahiti
3 things that are indispensable on Tahiti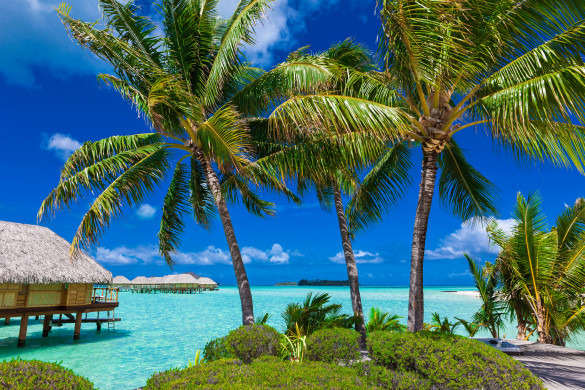 Good to know about Tahiti
Tahiti Island belongs to the overseas territory of French Polynesia, a collection of many small islands, atolls and archipelagos in the Southern Pacific. There are 118 French Polynesian islands altogether, which are divided into five atolls with only 67 of the islands being inhabited. Believe it or not, the islands are spread over an area of 5.5 mill m², of which actually only about 3,500m² are made up by land – as the largest island, Tahiti itself occupies a third of the surface and it's also the main island of French Polynesia, accessible via Papetee International Airport. You have to take jet lag into account, depending on how long your journey takes and which countries it takes you through, as Tahiti is about 10 hours behind (GMT-10). The best time to get here: it's actually all year round. But if you want to avoid the crowds of tourists, the months outside the dry season, November until March, are great.
Unique scenery & a lush flora and fauna
It's above all the magnificent landscape, but also the exotic flora, which fascinates holidaymakers on Tahiti. Tahiti is the heart of French Polynesia, so to speak, and apart from that also the home of Papeete, the vibrant island capital. It's a mixture of mountains and sea, on the inside there is the deep green, mountainous core with breathtaking waterfalls, while the partly black, partly white sandy beaches and turquoise blue, shimmering lagoons line the island's edges. If you're particularly interested in the vegetation of this idyllic natural paradise, then you should be looking forward to the diverse flora found here – coconut palms, lemon, mango and banana trees, orchids with vanilla pods and countless colourful flowers adorn this exotic island paradise. When it comes to wildlife on Tahiti, you don't have to fear any dangerous animals such as poisonous reptiles. Most animals were introduced by settlers and there are almost 30 types of colourful birds here that are especially worth seeing.
Diving, hiking and more
The fact that this varied landscape is perfect for diverse leisure activities shouldn't be a secret. Some of them include a range of exciting water activities in the crystal clear waters. The colourful coral reefs with their varied underwater world seduce mostly fans of scuba diving who can look forward to sea turtles, Napoleon fish, spotted eagle rays, pelagic threshers and many more tropical fish. But if you feel better above than under the waves, you can, for example, give a surfing board a try – surfing, kite surfing and stand up paddling are very popular water sports and the beaches of Tahiti offer a suitable difficulty level for everyone. Professional surfers are drawn to Teahupoo, the ultimate surfing spot known for its tall and dangerous waves. Alternatively there's also parasailing, jet skiing and canoeing or sailing.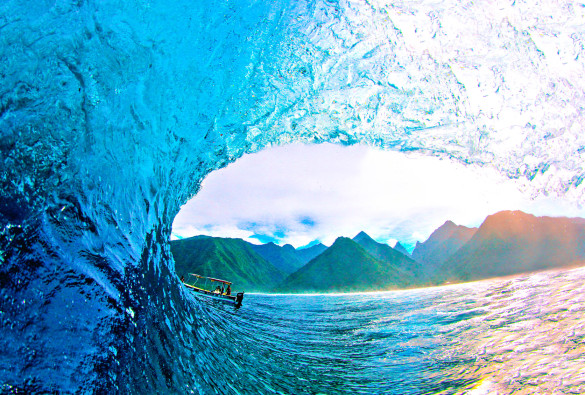 If you'd rather keep to dry land and want to get to know the unique nature of Tahiti and its neighbouring islands, you'd best take a hike through the diverse landscapes that await you with lush, tropical vegetation. You'll be able to get to know the green heart of Tahiti better and better on foot. Unspoiled coves with craggy, rocky slopes wait on the way, as well as picturesque valleys and rivers interrupted by fascinating waterfalls. Occasionally it's worth taking a break in one of the many splendid botanical gardens. Apart from that, a hike to Orohena Mountain (2241 metres), to Aorai Mountain (2066) or along the Papenoo Valley are also very popular on Tahiti. However, organising an experienced guide is recommended, since they know the flora, fauna and Polynesian culture inside out and will provide you with advice and assistance. I can tell you one thing: it will seem that you've really arrived in paradise during a hike through Tahiti at the latest. And if you don't want to cover the whole long trail on foot, I recommend an alternative tour with an off-road vehicle.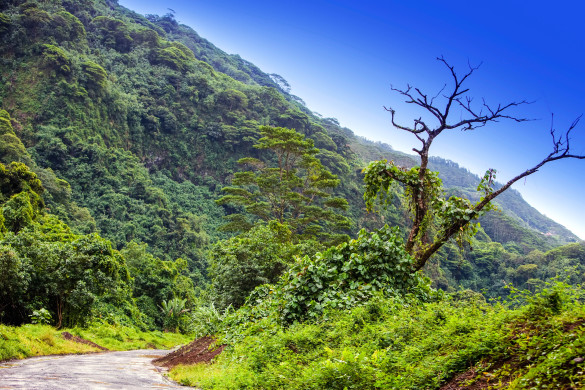 Trip to Bora Bora
Are you spending your holiday on Tahiti and have time to spare? Then you should definitely not miss making a detour to the nearby holiday paradise Bora Bora! Delightful landscapes await you here too – deep blue lagoons, steep mountain slopes and white beaches fringed by palm trees make the island scenery perfect. How to get there? It's easy: Bora Bora is just a 40 minute flight away from Tahiti, so it can be reached easily by a small plane. As soon as you arrive, you should definitely head out on an exploration tour of the unspoiled landscapes and experience the breathtaking underwater world. My tip: If this excursion is not enough for you, pay a visit to Tahiti's smaller sister Moorea, an enchanting island just a 35 minute boat ride away and also awaiting its visitors with a magical, picture-perfect scenery.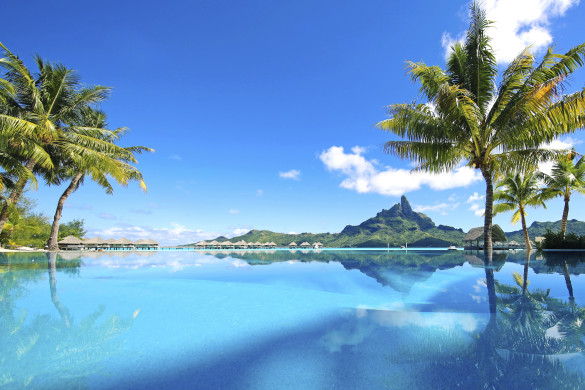 Accommodation on Tahiti calls for daydreaming
You probably know the drill: When talking about a paradise destination, you can't do without the perfect accommodation to top off your dream holiday. An example would be the popular overwater bungalows, accommodation with a private infinity pool or a room with a magnificent view of the turquoise, shimmering sea and green scenery… Just the thought of it can make you speechless.
If the first impressions of Tahiti have already won you over, the following accommodation will make you daydream:
3 things that are indispensable on Tahiti
If you're travelling to a distant place, a destination that's perhaps not mentioned in the media on a daily basis, it's usually worth it reading up on a few facts about the country and the people. So far, I wanted to warm your hearts with a first impression of this paradise at the heart of French Polynesia in the South Pacific. Now, three useful tips will follow, which you might want to take with you on your journey to Tahiti.
Get to know the people together with their culture: Approach the inhabitants of Tahiti, especially those in the island capital of Papeete, in order to witness their kindness and hospitality. Dance to the rhythm of their music and communicate using the rusty French skills you still have left (alternatively in English or, if necessary, use your hands and feet – it always works). You'll see how quick they'll open their hearts to you.
Enjoy the Tahitian coconut milk: You're not allowed to leave Tahiti without having drank fresh coconut milk at least once. The coconut palms are virtually a symbol of Tahiti. An example of a popular dish is a marinated, raw fish in coconut milk.
Visit the capital of the island – Papeete: Located in the north-west of Tahiti, Papeete is the capital city of not only the island, but also of the entire French Polynesia. If you'd like to get a good sense of a real Tahitian flair, no place is better than this turbulent city. A visit to the colourful markets of Papeete, where people work hard haggling for and selling goods, is an absolute must. Try fresh, local specialties and get some insider tips from the locals. Also worth a visit: The Notre-Dame of Papeete, the Pearl Museum and the Museum of Local History, the Presidential Palace and the Papeete Botanical Garden.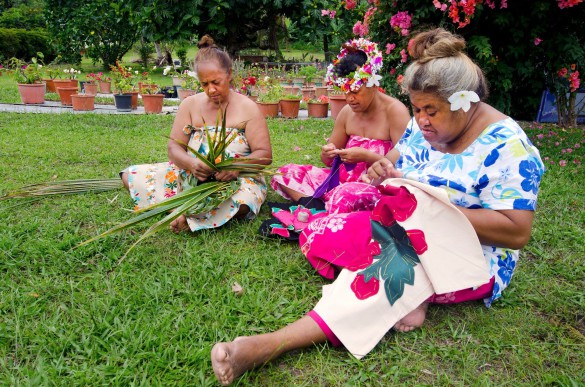 And? Are you in? Then check for cheap flights that will whisk you away to this dreamy paradise in the Southern Pacific.