It's a philosophy, a doctrine – yes, we could even call it a sport, which originated in India and has since achieved incredible popularity the world over!
We're talking about yoga of course, spiritual and physical exercises which are almost indispensable for many fans in their day-to-day routine. But whether it's every day, once a month or only once a year while on holiday – where would you actually like to Greet the Sun the most? Lucky I knew a few places already which you're guaranteed to love. Here are the most beautiful yoga locations in the world, exclusively for you!
A holiday for the body and soul – the most beautiful yoga locations in the world
Yoga on Koh Samui | The beaches of California | Yoga paradise on Paradise Island |
Costa Rica for yoga fans | India – the home of yoga | Yoga on Bondi Beach | The Desa Seni Resort on Bali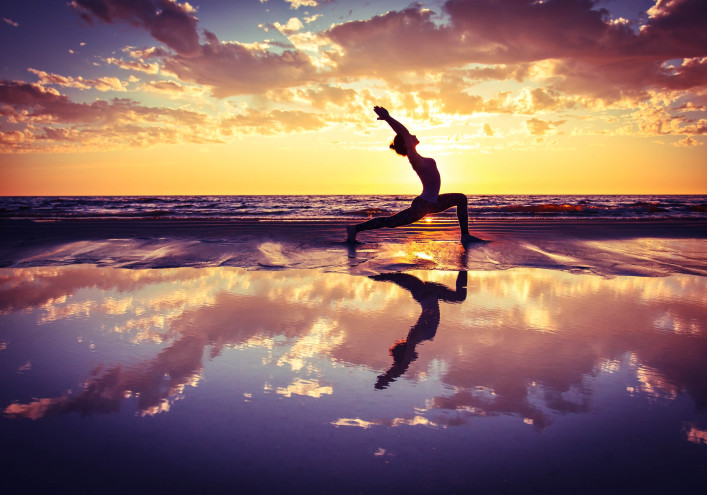 Yoga in a dream resort on Koh Samui, Thailand
The dream island of Koh Samui is known for its powdery white beaches, majestic landscapes and many luxurious hotels. One of them is the exclusive 5 star Resort Four Seasons Koh Samui, which thanks to its many extras is considered one of the most popular hotels on the island – one of those extras being a diverse yoga programme. I have a pretty good idea of how it must be to go on holiday here! Just by looking at the pictures I can already feel my body and soul harmonising!
The beaches of California: the perfect place for yoga
Why should it always be in a yoga studio? In my opinion this sport is perfect for the outdoors! So why not use the famous beach of Santa Monica as one of our most beautiful yoga locations in the world? You'll see that there are also entire yoga groups on the move here, because California's inhabitants love to keep in shape!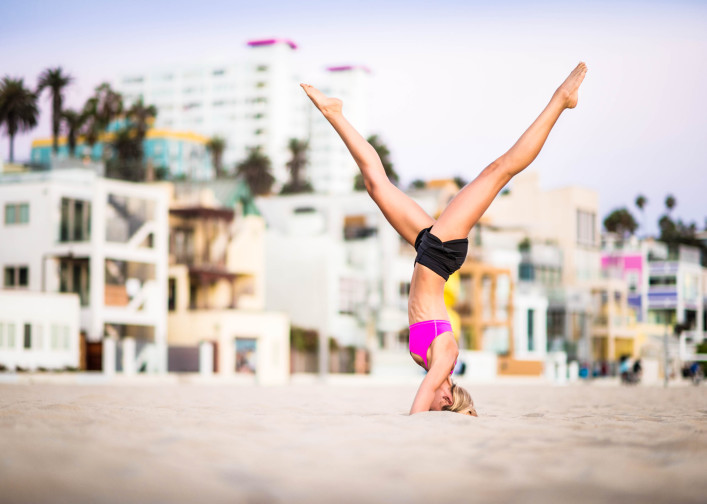 Yoga on Paradise Island – the name says it all!
Or how about a spot of yoga in the Bahamas? Even the name of this island in the Bahamas says it all – Paradise Island. Located on this idyllic island is the 5 star Sivananada Ashram Yoga Retreat, a true heaven for ever yoga fan. Meditate and push your body with different exercises while enjoying views of the white beaches, the turquoise seas and the beautiful, colourful little houses – simply marvellous! But there's one thing you should know beforehand: the meditation centre is structured like a monastery, which means that yoga doesn't just serve as entertainment, but rather as a way of life, so expect to see it on the programme every day.
Costa Rica for yoga fans
One of the most popular hotels in the beautiful resort of Montezuma is the 5 stay Anamaya Resort. If you're looking to enjoy some real relaxation, get a taste of that fresh sea breeze and simply recharge your batteries, then you should definitely come here for the yoga week. In this luxuriously decorated and beautifully located resort you won't just have the opportunity to take part in yoga course, but also be trained by a proper yogi. Now that's already something, right? ;) Another pull is of course the incredible view of the sea that you'll be able to enjoy thanks to the hotel's great location, as well as a heavenly infinity pool that invites for a spot of relaxation after a tough workout. I'm already excited just thinking about it!
We're off the Ayurveda Yoga Villa in India!
We're now coming to the home of yoga, the county where this philosophical practice originated: India. Here, or to be more precise in the beautiful Kalpetta in the state of Kerala, you'll find the Ayurveda Yoga Villa – the name says everything you need to know! Enjoy the peaceful moments, allow your body and soul to harmonise and delve into an exciting yoga experience which focuses on both the body and soul. You'll also learn more about this doctrine and its effects.
Pure relaxation on Bondi Beach
It's not a resort this time, but it's still a very special place to improve your yoga talents. Bondi Beach in Australia is one of the most beautiful beaches in the world and I couldn't picture a better location where you'll only hear the sound of the waves and concentrate solely on your body as your relax!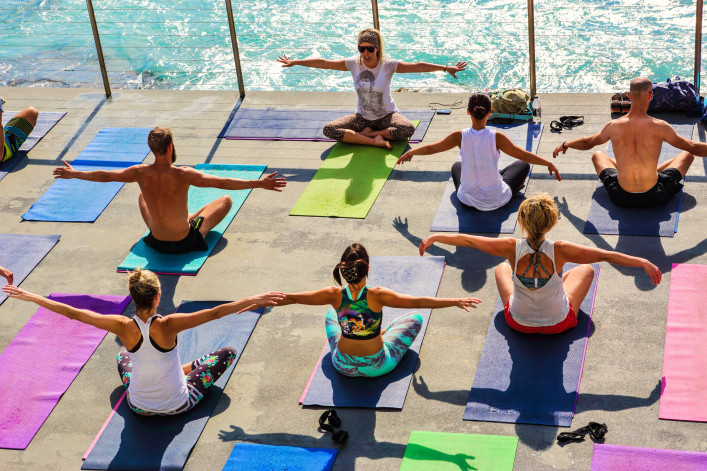 Bali – find your inner self on this dream island
If you've ever visited this magical place, then you'll understand why everyone is so passionate about Bali. In the heart of this small, traditional village you can find your inner self through different yoga and mediation courses and enjoy the fantastic atmosphere. Here in the Desa Seni Resort everyone is welcome – you don't have to rent a room to be a part of the unique experience, as you can simply take part in the yoga sessions as a guest and use the pool area. You should definitely take a look!
I hope you like my article on the most beautiful yoga locations in the world. I'd be interested to see if there are some yoga fans amongst you – if so, you're more than welcome to suggest some of your coolest yoga locations or send me links to impressive yoga pictures. I'm looking forward to it!